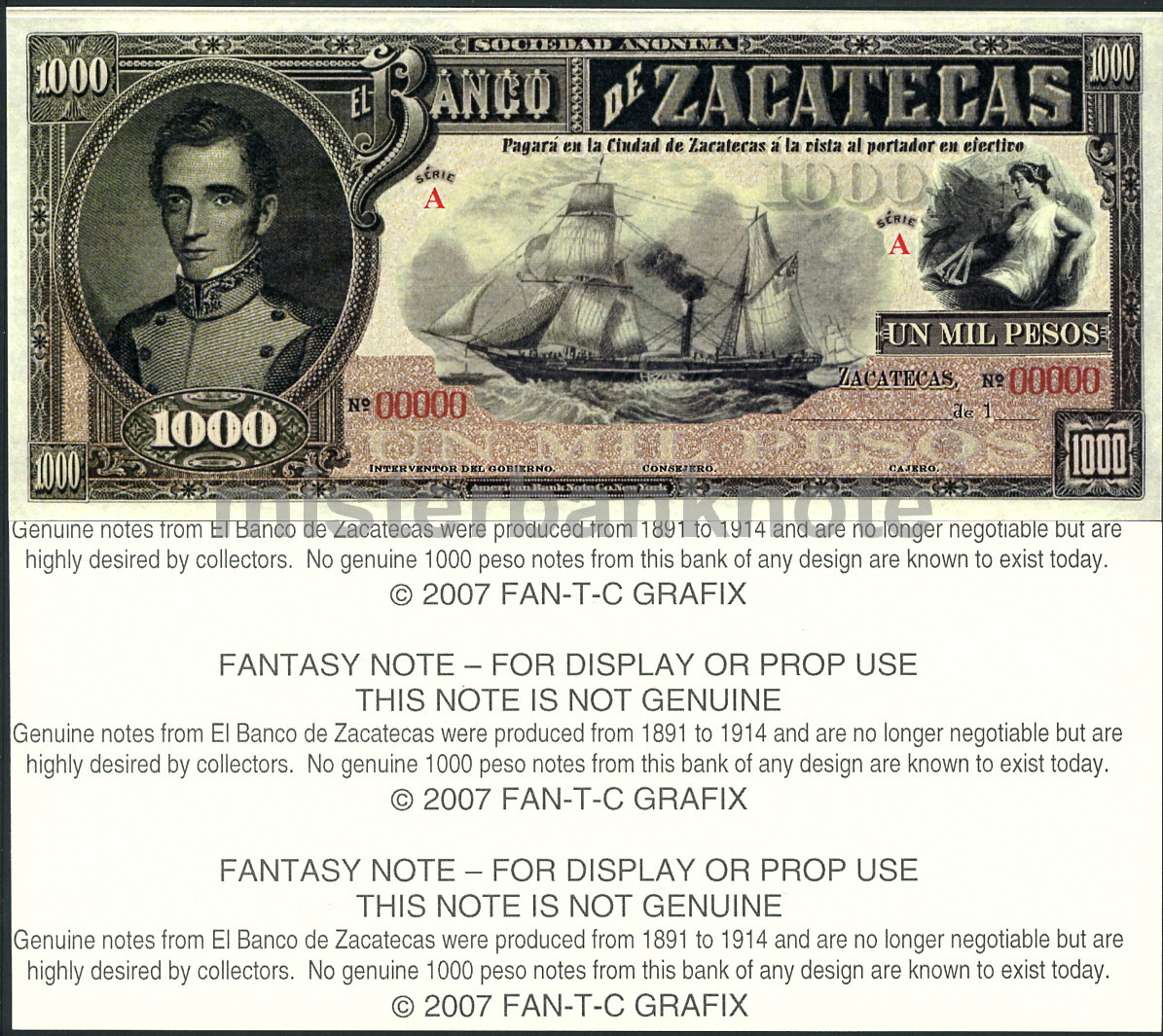 Item ID:391531353233
Seller ID: misterbanknote
Listing Type: Fixed Price Item
List Date: 08/12/2016
End Date: 05/12/2020
Location: Englewood, Florida
»

»
Zacatecas, mexico 1000 peso fantasy art note - sailing steamship, 1-sided - new!
---
$5.99
misterbanknote - Richard J. Reed World Paper Money - genuine world banknotes, hollywood movie prop money, antique stocks, bonds, checks, old coins, souvenir cards, novelty money, fantasy art naked lady bills Since 1981, a dealer in conservatively-graded financial paper collectibles offering fair pricing and fast, friendly service World Paper Money & Coins - Antique Stocks, Bonds, & Checks - Hollywood Movie Money Souvenir Cards - Novelty Bills - Numismatic Literature - Antique Newspapers - Old Cigar Labels Find out why we are the wholesale suppliers of some of eBay's biggest banknote dealers! Spectacular original fantasy art bills and reproductions of beautiful and scarce old bills PLEASE SEE IMPORTANT NEW SHIPPING INFORMATION & TERMS OF SALE BELOW BEFORE YOU BID OR BUY! TITLE/DESCRIPTION: ZACATECAS, MEXICO 1000 PESO FANTASY ART NOTE - SAILING STEAMSHIP, 1-SIDED - NEW! CLASSIFICATION OF ITEM: Fantasy art notes (non-genuine banknote prints designed to look like money by a graphic artist) GRADE OR CONDITION OF ITEM(S): Uncirculated ADDITIONAL DESCRIPTION: No collection of beautiful Mexican bancos notes is complete without this neat-looking, full-color fantasy art 1000 peso specimen note purporting to be from El Banco de Zacatecas! Actually, there is in truth no complete collection of all the old bancos notes but your's will certainly be enhanced by this spectacular pretend piece! Each note is larger than a dollar bill and about the size of an average genuine "Bancos" note. This is one of the fantasy note creations from FAN-T-C-GRAFIX (now known as the Reed Banknote Co., Sarasota)! This is a piece of banknote art and not a sheet of actual banknotes. Éste es un pedazo del arte del billete de banco y no de un billete de banco real. Ciò è una parte dell'arte della banconota e non di una banconota reale. C'est un morceau d'art de billet de banque et pas d'un billet de banque réel. Dieses ist ein Stück der Banknotekunst und nicht der tatsächlichen Banknote. This professionally laser-printed fantasy looks real, is great for display, and won't cost you much (and you won't have to worry about it getting stolen!). The bill is printed in color on one side and features the portrait of a uniformed man at left, a sailing steamship at center, and a reclining lady at right. The back of each bill has infomation on the notes - see above scan. You can see that this note is totally in compliance with the Hobby Protection Act, so that unscrupulous individuals can't try to sell it as genuine. The note is printed on an ivory-colored paper. Great for display in your shop, coin show, or flea market booth, den, or use as an eye-catching prop in your next production! It will be shipped in a heavy cardboard folder. Again, this faux bill is not a genuine issue of Mexico, just a neat artistic creation! Este billete de banco no es genuino! SHIPPING INFORMATION & TERMS OF SALE FOR PURCHASES BY USA BUYERS FOR SHIPMENT WITHIN THE USA SALES TAX: Florida residents must add sales tax. In lieu of the tax, registered dealers can submit a signed copy of their resale certificate to the contact address below. PAYMENT: PayPal is accepted from verified US members and items are shipped to their domestic USA PayPal-confirmed addresses. We will also accept PayPal from non-verified US buyers. Due to risk, we restrict the total amount of funds accepted via PayPal and we reserve the right to reject any payment by PayPal for any reason. If you are planning on purchasing a large amount of goods, whether verified or not, please contact us prior to placing your bid/purchase order. FOR PURCHASES BY INTERNATIONAL BUYERS FOR SHIPMENT OUTSIDE THE USA PAYMENT: We will accept PayPal payment from international buyers only if the item(s) purchased are available for shipment outside the USA. All shipments sent outside the United States and paid by PayPal in the amount of $35 or more must be sent by registered mail for an additional fee (added to the standard first class international shipping charge). Note that registered mail is very safe but much slower than standard mail, so please be patient. Overseas registered items can take several weeks to be delivered. ADDITIONAL IMPORTANT INFORMATION FOR ALL BUYERS DELIVERY: Every effort is made to send the merchandise to the buyer as soon after payment is received as possible. Bear in mind that once the package has been mailed, it is out of our hands. Overseas packages, particularly registered packages, can be very slow in reaching their destination, so please be patient. OTHER TERMS: Payment is due within 7 days of the sale close date. Failure to honor your obligation to pay for a winning bid in our auction or instant-purchase sale will result in being placed on our "blocked bidder" list. We have been dealing in world notes since 1981 and have always run our business by offering conservatively graded material, fair pricing, and fast, friendly service, so bid with confidence! We are a member of the IBNS, SPMC, and FUN. FEEDBACK: We normally leave you (the buyer and our valued customer) great feedback once the item has been shipped. Please remember to leave us (hopefully) great five star seller feedback on all points. It is our goal to provide a wonderful buying experience to all of our customers. In order to keep ebay from being overwhelmed by a few large sellers who will then be free to monopolize and control the market, please support us and the other "little guys" out there who deliver a great product in a timely manner and offer you items that you may not be able to find anywhere else (at least at a reasonable price)! SPECIAL DISCLAIMER CONCERNING ART, NOVELTY, PROP, & OTHER NON-NOTES: Rarely we come across buyers who have unrealistic expectations about the quality of non-genuine banknotes that we sometimes offer for sale. These include movie prop notes, common novelty bills, Chinese hell notes, political notes, replica notes, reprint notes, and fantasy art bills. Due to the fact that these "notes" are not issued by some monetary authority for use as real currency, they can not be held to the same print quality or paper quality standards as a genuine banknote printed by one of the big banknote companies like American Banknote or Thomas de la Rue. Quality can vary depending on the type of "funny money" bill but they will definitely not be up to the standards of a banknote that has been created by fine-steel engraving. CONTACT US: thru ebay's "My Messages" system. You can also send standard mail to: RICHARD J. REED P. O. BOX 20665 SARASOTA, FL 34276-3665 misterbanknote - because money does not grow on trees "Bringing you a galaxy of values" Portions of this page copyright 2017 by Richard J. Reed - All rights reserved Froo www.froo.com | Froo Cross Sell, Free Cross Sell, Cross promote, eBay Marketing, eBay listing Apps, eBay Apps, eBay Application
Listings on Sportscards.com Price Database are obtained exclusively from licensors and partners solely for our member's research only needs.
Country: Mexico - Zacatecas (fantasy note)
Circulated/Uncirculated: New
Type: Paper fantasy art note (1-sided color)