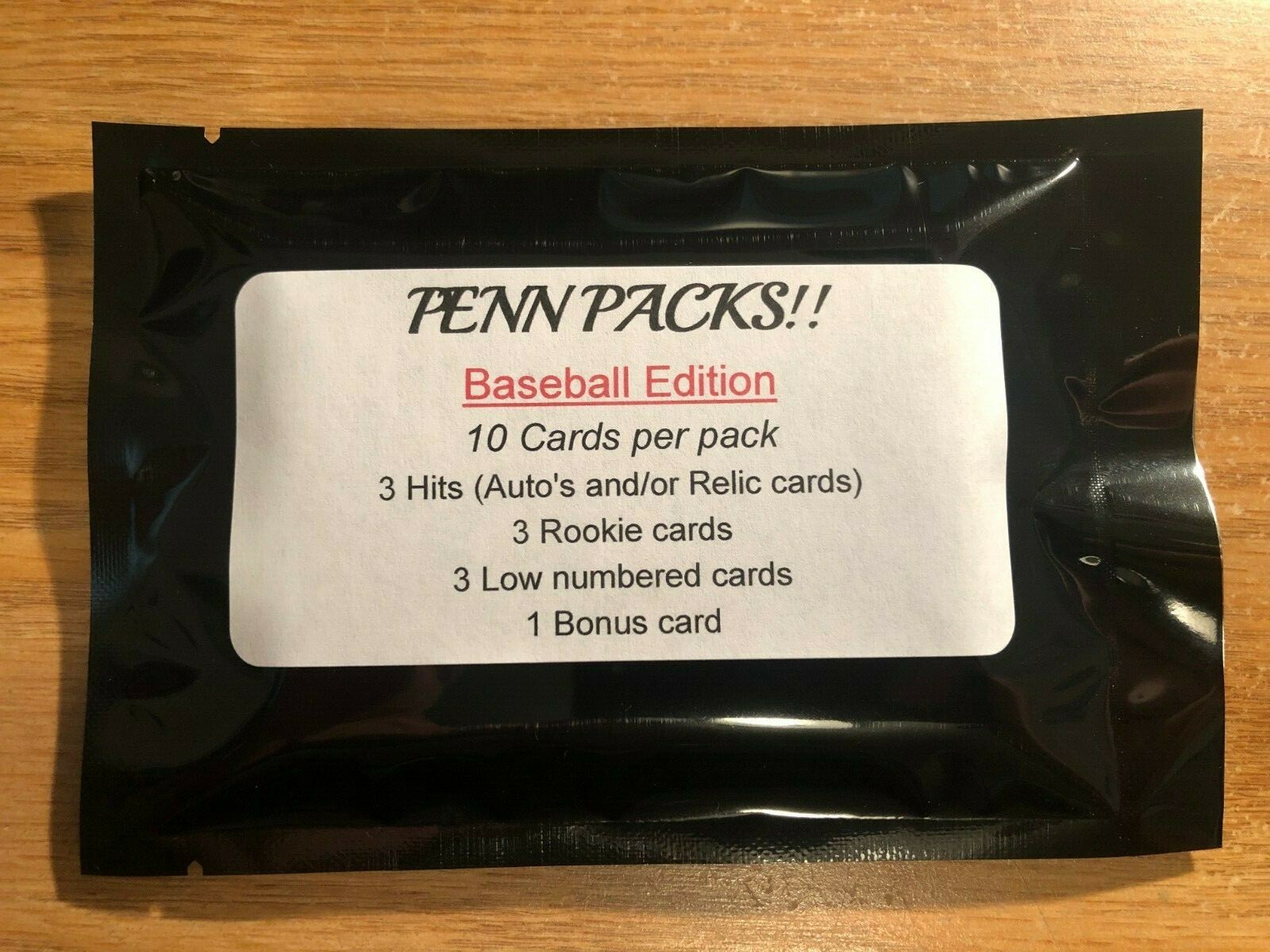 Item ID:203095072957
Seller ID: davepenn444
Listing Type: Fixed Price Item
List Date: 09/01/2020
End Date: 09/05/2020
Location: Irwin, Pennsylvania
»

»
Penn packs!! baseball edition - loaded with hits n'at!
---
$19.99
PENN PACKS!!Each pack will contain an assortment of cards from older ones to the latest cards released. And they will be from many different manufacturers. I've checked the Beckett guide for almost every single card to make sure you are getting more value than what you're paying. There will recognizable names in these packs. No fillers, no-names or throwaway cards. Some of the low numbered cards may have lesser known players, but they are very low numbered which makes them more valuable. But again, no crap in here! Each pack will contain 10 cards: 3 hits: Hits are auto's or game-used relics. These could be rookie cards or stars. 3 rookie cards: These will be from all different years. 3 low numbered cards: (again, the names of the players will be very recognizable for the most part. But a lesser known player will still be very low numbered, most to 100 or less). These cards will generally not be auto or relic cards, but you never know! 1 Bonus card: This will be an extra freebie card of my choice. No guarantees as to what the surprise card will be, but I'm sure you will like it! Bonuses: Buy 4 packs and get one free! Buy 8 packs and get one free plus a bonus card valued at least $20!! Buy 9 packs or more and get one pack free plus a bonus card valued at least $50!!! Again: When I say "valued at", I'm talking about what the Beckett guide lists as a "high value" for a card in near mint condition and NOT what you'd find it for on eBay. If the card is not in near mint condition, there will be 2 cards instead of 1. Individual cards will be in their own protective sleeve. Cards will be in order in a team bag. For example, "The Hits" will be 3 hit cards packaged together in 1 thick sleeve. I feel like I've done a pretty good job of stuffing these packs with a lot more value than what you're paying for them, but please contact me if you have any questions before buying. I'm happy to help! Limited to 25 packs so get them while they last! Check back soon for the next wave of PENN PACKS!! Pittsburgh Edition These will be Pittsburgh themed packs containing cards from Steelers, Pirates and Penguins! Thank you for checking out my mystery packs and please let me know what you think! Payment is expected within 3 days of auction end or order will be canceled. Shipping is $2.99 for 1 pack. I will combine shipping for any additional packs won. Please wait for an invoice before paying if you are buying more than 1 pack. If you buy a lot of packs and they need to be shipped in a box, shipping will be $8.99. PLEASE allow 3 to 5 business days for your pack or packs to ship.
Listings on Sportscards.com Price Database are obtained exclusively from licensors and partners solely for our member's research only needs.
Franchise: MLB
Manufacturer: Topps