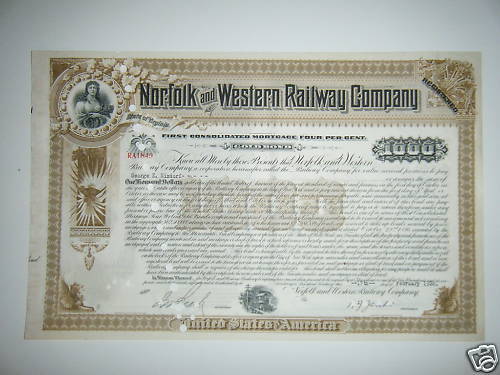 Item ID:352232168021
Seller ID: ivymontcpa
Listing Type: Fixed Price Item
List Date: 12/12/2017
End Date: 05/12/2020
Location: Richmond, Virginia
»

»

»
Norfolk & western railway $1,000 gold bond 1930s-crisp, big, pretty - wow !
---
$9.90
Very Fresh $1,000 Bond with a beautiful design, ca 1932, one light vertical fold. The Norfolk and Western Railway (N&W) (reporting mark NW), a US class I railroad, was formed by more than 200 railroad mergers between 1838 and 1982. It had headquarters in Roanoke, Virginia for most of its 150 year existence. The company was famous for manufacturing steam locomotives in-house at the Roanoke Shops as well as their own hopper cars. Around 1960, N&W was the last major American railroad to convert from steam to diesel motive power. In the mid 20th century, N&W merged with long-time rival Virginian Railway in the Pocahontas coal region and grew even more in size and profitability by mergers with other rail carriers including Nickel Plate Road and Wabash in adjacent areas to form a system serving 14 states and a Canadian province between the Atlantic Ocean and the Mississippi River and Great Lakes with more than 7,000 miles (11,000 km) of trackage. In 1982, the Norfolk & Western Railway was combined with the Southern Railway, another profitable carrier, to form the Norfolk Southern Corporation (NS), but it continued paper operations until it was merged into the Southern (by this point renamed Norfolk Southern Railway) in 1997. Norfolk and Western operated profitably through World War I and World War II and paid regular dividends throughout the Depression. During World War I, the N&W was jointly operated with its adjacent competitor, the Virginian Railway (VGN), under the USRA's wartime takeover of the Pocahontas Roads. The operating efficiencies were significant, and after the war, when the railroads were returned to their respective owners and competitive status, the N&W never lost sight of the VGN and its low-grade routing through Virginia. However, the US Interstate Commerce Commission (ICC) turned down attempts at combining the roads until the late 1950s, when a proposed Norfolk & Western Railway and Virginian Railway merger was finally approved. Norfolk and Western also operated safely in this time, being the recipient of the Gold E. H. Harriman Award for 1938. In a promotional booklet published in 1939, Norfolk and Western wrote "For the second time in 12 years, the American Museum of Safety has awarded the Harriman Memorial Gold Medal to the Norfolk & Western Railway for the outstanding safety record during 1938 among class I railroads of the United States." It is further noted that the railway carried one million passengers more than 86 million miles without incident in the period from 1924 to 1938. Additional Information: This is a cancelled $1,000 Mortgage Bond. You may purchase more than one, as I am a wholesaler of this particular item. Just change the quantity that you wish to purchase. If you wish to purchase more than just a few of this particular item, please e-mail me to discuss special pricing. I often sell in bulk to attorneys, CPAs, interior decorators, architects and gift shops. I have also sold to marketing companies to use in non-profits. If you are a non-profit (such as a museum or foundation) and have a special connection to the particular issuing entity, I would especially love to speak with you about becoming a supplier for your gift shop. The particular certificate that you will receive will be of the same exact design as photographed, but will not be the exact certificate pictured. Yours may be for a different quantity of shares and/or a different stockholder. Your certificate may also have different cancellation markings. Terms and Conditions: FREE POSTAL SERVICE FIRST CLASS MAIL SHIPPING to the United States. Uninsured International, including Canada, shipments are $6.80. All international shipments that request insurance and registered mail will be charged $14 for this service. I have been a member of the American Philatelic Society since 1978 and have been selling on eBay for years. Virginia buyers must pay our Governor's 5.3% sales tax unless you email a PDF of your resale certificate within 24 hours of the end of the auction. Buy with trust and confidence. I will work to make you happy. Thank you for taking the time to view my items. Powered by eBay Turbo Lister The free listing tool. List your items fast and easy and manage your active items.
Listings on Sportscards.com Price Database are obtained exclusively from licensors and partners solely for our member's research only needs.