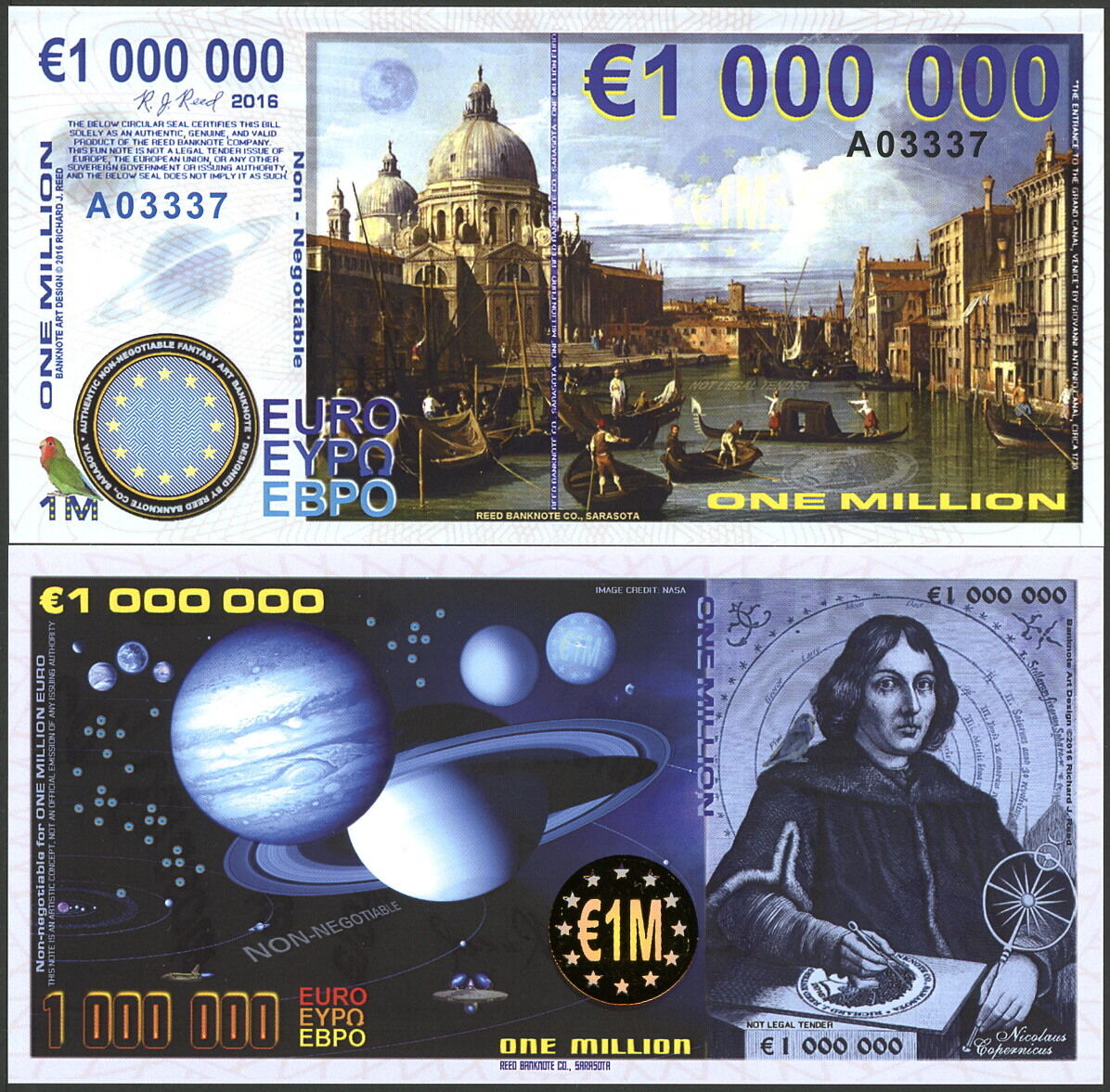 Item ID:391674754363
Seller ID: misterbanknote
Listing Type: Fixed Price Item
List Date: 01/12/2017
End Date: 05/12/2020
Location: Englewood, Florida
»

»
Europe one million euro polymer copernicus film commemorative fantasy note!
---
$9.99
misterbanknote - Richard J. Reed World Paper Money - genuine world banknotes, hollywood movie prop money, antique stocks, bonds, checks, old coins, souvenir cards, novelty money, fantasy art naked lady bills Since 1981, a dealer in conservatively-graded financial paper collectibles offering fair pricing and fast, friendly service World Paper Money & Coins - Antique Stocks, Bonds, & Checks - Hollywood Movie Prop Money - Fantasy Art Bills - Novelty Bills - Souvenir Cards WHOLESALE RETAIL Spectacular original fantasy art bills and reproductions of beautiful and scarce old bills Front and back detail of note in this sale is above Check out some of the other great fantasy art notes available from our store! Some of these items are also available in uncut sheet format. These notes are not included in this sale but we can add some to your order for more American greenbacks! Feel free to ask us any questions - prices vary depending on the item(s), their scarcity, desirability, and the total of your order. Thanks for looking! FAN001 FAN002 FAN003 FAN004 FAN005 FAN006 FAN007 FAN008 FAN009 FAN010 FAN011 FAN012N1 FAN012N2 FAN013N1 FAN013N2 FAN014 FAN015 FAN016 FAN017 FAN018 FAN019 FAN020 FAN021 FAN022 FAN023 FAN024 FAN025 FAN026 FAN027 FAN028 FAN029 FAN030 FAN031 FAN0039 FAN032 FAN033 FANP02 FAN034 FANP03 FAN035 FAN FAN036 FANP05 FAN037 FANP06 FAN038 FAN039 FAN040 FAN041 FAN042 FAN043 FAN044 FAN045 FAN046 FANP01 FANP02 FANP03 FANP04 FANP05 FANP07 FANP09 PLEASE READ THIS IMPORTANT INFORMATION BEFORE YOU BID OR BUY! TITLE/DESCRIPTION: EUROPE 1000000 (ONE MILLION) EURO COPERNICUS FILM COMMEMORATIVE SPACE FANTASY ART NOTE! CLASSIFICATION OF ITEM: Fantasy Art Banknote (non-genuine artistic creations that look like real money, limited edition novelty bills) GRADE OR CONDITION: Uncirculated APPROXIMATE SIZE: 6 5/8" wide x 3 1/4" high ADDITIONAL INFORMATION: Another awesome note that arrived just a day too late for the recently-concluded FUN 2017 show in Ft. Lauderdale, this new note is a Reed Banknote polymer bill, designed by prolific banknote graphic artist R. J. Reed, who has been designing notes for nearly half a century, and it features a view of the Grand Canal of Venice on the front and a view of the solar system and a portrait of the astronomer Nicholas Copernicus on the back! But this note also has an extra feature - a tiny version of two spacecraft commemorating two science fiction films. One is a space shuttle (the USS Starview from Reed's own home-brewed sci-fi independent video film TOSSED IN SPACE: ALIEN ENCOUNTER, filmed 30 years ago). Can you recognize the other fictional ship? This incredible fantasy bill is printed in color on both sides on polymer and includes an overprint (visible under a UV light) and a facsimile signature of artist R. J. Reed that is also visible as red under UV. There is also an eye-catching gold foil stamping, designed by banknote artist Tom Stebbins, on the back. Each note also has regular serial numbers that indicates it is a "regular issue" bill. These serial numbers are non-ascending numbers, different from the ascending numbers of the regular Copernicus bills. Also the polymer used on these bills is thinner than the polymer used on the earlier Copernicus bills. This faux bill, dated 2016, is a wonderful note that utilizes old master paintings and a NASA image as the theme. Of course, there are many beautiful genuine old U. S. and foreign bills, but for those of you who already have all the real ones (or for those of you who just like great-looking designs, money art, or who maybe can't afford the skyrocketing prices of most of the real bills), this note is for you. Dealers - what a marvelous eye-catching display item in your case! Collectors - what a great piece to add to your collection, real or fake! Again, this is a piece of banknote art and not an actual banknote. Éste es un pedazo del arte del billete de banco y no de un billete de banco real. Ciò è una parte dell'arte della banconota e non di una banconota reale. C'est un morceau d'art de billet de banque et pas d'un billet de banque réel. Dieses ist ein Stück der Banknotekunst und nicht der tatsächlichen Banknote. This professionally laser-printed fantasy looks real, is great for display, and won't cost you much (and you won't have to worry about it getting stolen!). Great for display in your shop, coin show or flea market booth, den, or use as an eye-catching prop in your next production! With the introduction of some new designs, these faux notes from the Reed Banknote Co., Sarasota have never been more popular! These bills, unlike many novelty and funny money notes, are not produced in mass quantities but only in small, limited printing runs, so not everyone around can own one. Their spectacular eye-catching designs and colors are the next best thing to owning the real thing, which do not exist anyway! Again, this note is not a genuine issue of the European Union or any other note-issuing authority, just a neat artistic creation! Este billete de banco no es genuino! Check out some of our other eye-catching designs! "Sooner or later, if you collect banknotes or like banknote art, you will own a Reed."" FEEDBACK: We normally leave you great feedback once the item has been shipped. Please remember to leave us (hopefully) great five star seller feedback on all points. If you don't sell on ebay, you may not realize it, but anything less than five stars is considered essentially bad service by ebay management and affects a seller's ability to compete in the marketplace. It is our goal to provide a wonderful buying experience to all of our customers. In order to keep ebay from being overwhelmed by a few large sellers who will then be free to monopolize and control the market, please support us and the other "little guys" out there who deliver a great product in a timely manner and offer you items that you may not be able to find anywhere else (at least at a reasonable price)! If you have any questions or problems about a transaction with us, please contact us so that we can answer your questions or work to help resolve any problems in a reasonable manner before any hasty and derogatory feedback is left. We always endeavor to treat you, our highly valued customer, the same way we like to be treated, with prompt, friendly, and honest service, delivering great products at a fair price and in a timely manner. Life is too short to waste squabbling about minor, inconsequential matters, especially while engaged in a hobby activity that is, above all else, supposed to provide pleasure to the partakers thereof! We hope you will enjoy our transaction together, will come back many times with repeat business, and will recommend us to your collecting friends too. We are a member of the International Bank Note Society (IBNS), Society of Paper Money Collectors (SPMC), and Florida United Numismatists (FUN). We have been dealing in world notes since 1981 and have always run our business by offering conservatively graded material, fair pricing, and fast, friendly service, so buy and bid with confidence! SPECIAL DISCLAIMER CONCERNING FANTASY ART, NOVELTY, PROP, & OTHER NON-NOTES: Rarely we come across buyers who have unrealistic expectations about the quality of non-genuine banknotes that we sometimes offer for sale. These include movie prop notes, common novelty bills, Chinese hell notes, political notes, replica notes, reprint notes, and fantasy art bills. Due to the fact that these "notes" are not issued by some monetary authority for use as real currency, they can not be held to the same print quality or paper quality standards as a genuine banknote printed by one of the big banknote companies like American Banknote or Thomas de la Rue. Quality can vary depending on the type of "funny money" bill but they will definitely not be up to the standards of a banknote that has been created by fine-steel engraving. Items sold in of themselves are legal to own, however, as with most anything, if misused (i.e. if someone tries to pass one off as a genuine bill), there can be serious outcomes, such as being arrested for fraud, passing a counterfeit bill, or uttering a forgery! Use your head, don't try to spend a non-negotiable bill or sell it to another collector as negotiable money. SALES TAX: Florida residents must add sales tax. In lieu of the tax, registered dealers can submit a signed copy of their resale certificate to the contact address below. PAYMENT INFORMATION (GENERAL): PayPal is the standard ebay payment method, with the conditions for domestic and international shipments as noted below. Due to risk, we restrict the total amount of funds accepted via PayPal per shipment and per time period. We reserve the right to reject any payment by PayPal for any reason, including if PayPal states that the transaction is not eligible for seller protection. If you are planning on purchasing items costing more than a total of $100, whether verified or not, please contact us prior to placing your bid/purchase order. PAYMENT (DOMESTIC - USA): PayPal is accepted from verified US members and items are shipped to their domestic USA PayPal-confirmed addresses. We will also accept PayPal from non-verified US buyers with items shipped to their PayPal-listed address. PAYMENT (INTERNATIONAL): If the item(s) purchased are listed for shipment outside the USA, we will accept PayPal payment from international buyers. All items must be sent to your PayPal-listed address. All shipments sent outside the United States and paid by PayPal in the amount of $35 or more MUST be sent by registered mail for an additional fee (added to the standard first class international shipping charge). Note that registered mail is very safe but much slower than standard mail, so please be patient. Overseas registered items can take several weeks to be delivered. DELIVERY CONFIRMATION/TRACKING NUMBER: Certain lower-cost items are not tracked due to the increased cost of shipping which would not be worth it for these items. For thin items which are tracked, you may find a styrofoam or cardboard insert in your package that creates a bulge in the packaging. The postal service requires that a packet be at least 3/4" thick in order to use delivery confirmation, that is the reason for the insert. DELIVERY: Every effort is made to send the merchandise to the buyer as soon after payment is received as possible. Bear in mind that once the package has been mailed, it is out of our hands. Overseas packages, particularly registered packages, can be very slow in reaching their destination, so please be patient. OTHER TERMS: Payment is due within 7 days of the sale close date. Failure to honor your obligation to pay for a winning bid in our auction or instant-purchase sale will result in being placed on our "blocked bidder" list. CONTACT US: thru ebay's "My Messages" system. You can also send standard mail to: RICHARD J. REED P. O. BOX 20665 SARASOTA, FL 34276-3665 GRADING STANDARDS FOR BANKNOTES AND SIMILAR PAPER ITEMS GENERALIZED, NON-SPECIFIC GRADES: LOW GRADE or HEAVILY CIRCULATED - generally POOR to VERY GOOD (see below specific grades) MID GRADE or CIRCULATED - generally VERY GOOD to VERY FINE (see below specific grades) MIXED CIRCULATED - generally LOW GRADE to HIGH GRADE circulated (see below specific grades) HIGH GRADE or LIGHTLY CIRCULATED - generally VERY FINE to ALMOST UNCIRCULATED (see below specific grades) VIRTUALLY NEW - generally ALMOST UNCIRCULATED to full UNCIRCULATED (see below specific grades) SPECIFIC GRADES: POOR - a virtual 'dog,' generally a raggy, dirty, torn, and sometimes taped-up poor-excuse of a banknote that has seen better days and is generally collectible only as a filler or curiosity unless it is extremely rare. FAIR - this is barely one step up, maybe not quite so raggy or dirty but perhaps missing a piece or more of the note along with other defects. This grade still exhibits extreme limpness generally. GOOD - like the grade 'GOOD' for a coin, GOOD really isn't so good although it is possible to have a semi-attractive note that still grades only GOOD due to the fact that it may have tears and small missing pieces as well as heavy creasing. Most GOOD notes have seen a lot of circulation and will show evidence of this such as many heavy folds, stains, edge tears perhaps extending into the design, pinholes, a center hole from excessive folding, etc. VERY GOOD - this grade will have fewer or less severe defects than the grade of GOOD and a number of VG notes are in fact quite attractive, especially instances where a note has been folded and refolded numerous times on the same creases, wearing a small hole through center and maybe causing a tear to appear in the design. At this point I want to introduce the notion of split grades, that is, an instance where the note is clearly better than GOOD but not quite VG. In this case, we might call the grade G-VG or G+ or even aVG (about very good). Experience is the best teacher for this; after you've handled dozens of well-used notes, you may feel more comfortable about split grading. Maybe you'll never feel comfortable because you might not even like the idea. We use split grades on occasion and believe most dealers and collectors do. I am less enthusiastic about the use of a 70-point grading scale such as is used for grading coins; more on this when we get there. FINE - this grade exhibits still considerable circulation with a number of creases, folds, wrinkles, minor border tears (which cannot enter the design portion of the note), and maybe a few pin or staple holes. At this point, a note is appearing somewhat attractive at least. After handling enough different notes, you'll come across some that appear to meet or exceed a certain grade except for some defect. Usually, this is handled by assigning that grade to the note but following it with a description of the defect. For example, you might have a note that is at least a FINE except for that somewhat obvious stain in which case you would describe it as FINE but stained or FINE but moderately stained or FINE but heavy corner stain, etc., whatever the case might be. Naturally the value of a note like this would normally be lower than a defect-free note of the same grade. Generally the higher grade a note is, the more 'picky' you should be about describing a defect that is not a normal characteristic of that grade. For example a VERY FINE note with a tiny tear or two might be listed as VF but border tear or could just be downgraded (or net graded) to F-VF or "net F-VF," though the tear should still be described. VERY FINE - Moving along, we start getting into the truly bright and more attractive notes in the VF grade and up. General characteristics of a VF note include: not more than a few vertical/and horizontal folds, a crisp paper, edges and corners can show slight wear but no tears are found in the border areas or anywhere else for that matter on the typical VF note. A slight amount of soil or smudging can be present but this should really be minimal in my opinion. EXTREMELY FINE - This is an extremely attractive note, showing only minor evidence of handling. According to the grading standards of the International Bank Note Society, or IBNS, an EF note may exhibit 'a maximum of three light folds or one strong crease.' An EF note is bright and without signs of soil. To the casual observer, it should appear just about new. There will be only very minute wear on the corners or edges. ABOUT UNCIRCULATED - The next step up from extremely fine, this is a note which would grade uncirculated except for some very minor handling or use such as a so-called wallet fold where the note has a very light fold (not a creased fold). An AU note might have a slight bend or wrinkle from being counted. In any case, this remains a very bright, new-looking note. An AU-UNC designation is often applied to notes with an extremely inconspicuous counting wrinkle, or a note which might have a tiny corner nick, rippled surface of the paper (due to humidity or some other environmental condition), or a note having a so-called dimple at the top of the security strip. UNCIRCULATED - New, as issued, with no defects with one possible exception. It is possible to have an UNC note that has staple holes, this due to the fact that some countries, including India and Pakistan, normally staple quantities of notes together prior to issue. In this case, a description of 'UNC - usual staple holes' is the rule. Otherwise, an uncirculated note is just that. More so in regards to U. S. paper currency but also occasionally used in describing UNC world notes are the adjectives 'choice' and 'gem.' I could see a particularly well-centered, attractive note perhaps earning one of these designations, however, I'm not convinced we need both terms. This mainly due to the concern that people would next move toward a silly multi-point UNC grading system like that of coins, particularly U. S. coins. In fact this has already happened. Some very rare (and not-so-very-rare) U. S. and world notes are being "slabbed" (put in special sealed holders) and commercially graded by numismatic grading companies using the 70-point scale. Just my personal opinion, but it seems like a convenient way to squeeze a lot more dollars for a "superb gem UNC MS-66 note." To newcomers to the numismatic community, "MS" refers to mint state (i. e. Uncirculated) and the "66" part indicates the relative "grade of uncirculation" with 60 being the lowest and 70 the ultimate or theoretically "perfect" note. About Uncirculated would range from 50 to 59, etc. This system has been in use for a number of years now in the coin business. The worst part is, the difference in a coin's value from a single key grading range (say MS-65 to MS-66) can be thousands of dollars for a "rare" item. This great difference in perceived value by some is why the whole grading system is controversial by nature because grading, is, in the final analysis, subjective (i. e. "beauty is in the eye of the beholder"). Thus, there is a lot of room for abuse. Also I have not been impressed with the grading of some of the so-called professional grading companies. I once sold a slabbed note that looked to me to be in VG grade but the grade on the holder said VF! I warned the potential buyers of this (the note was in an auction) and still it sold for at least the price of a nice VF note - go figure!). I believe a note will stand on its own; if it's hard to find, attractive, and actively sought by collectors, it's going to bring a better price. Many world notes are also common, but so attractive that they are always eagerly snapped up by enthusiastic collectors. There are a number of older notes from hard-to-find countries that list for a low price in The Standard Catalog of World Paper Money but sell for multiples of the catalog price due to the fact they are so difficult to locate. Most world paper collectors and dealers with experience will tell you the catalog is a starting point guide but there are many values listed in there that don't "jive" with the real world - they are either too high or too low in many cases. Another item to perhaps bear in mind, the grading system for U. S. notes is similar in many ways to that of world notes, but it has been my experience that the world system is generally more conservative, particularly for the upper grades. I have seen ads like "UNC - 1 fold." What does that mean? Sounds like an EF or AU note to me (EF if creased, AU if just a light fold or "wallet bend"). An additional point - notes, like coins, have sometimes been cleaned or had their appearance improved in some way. This is not always apparent. Some collectors have no problem with this, others feel, as with coins, that the items shouldn't be altered in any way. For notes, alterations can include actually washing the note (literally "laundering money!"), trimming it, erasing graffiti, pressing the note, mending tears, etc. The buyer should be aware that a note can be washed and pressed to improve its grade and a note altered in this way should not command the price of a note naturally appearing in this grade. A word of advice on mending tears, if you are inclined to mend tears, please don't use cellophane tape. Sooner or later it makes a mess of whatever its been taped to as it turns yellow and brittle. If you feel you need to tape a tear, use the permanent translucent tape that's now widely available. Hopefully this clarifies grading a little if you're a beginner or at least serves to demonstrate my interpretation of it and what kind of grading criteria you should expect and demand from my company. Clients have been, I am happy to report, very pleased with the quality of service as the return rate for notes has been a tiny fraction of far less than one percent. (These grading standards taken from my misterbanknote web site) misterbanknote - because money does not grow on trees Portions of this page copyright 2018 by Richard J. Reed - All rights reserved "Bringing you a galaxy of values since 1981"
Listings on Sportscards.com Price Database are obtained exclusively from licensors and partners solely for our member's research only needs.
Country: Europe (fantasy notes)
Circulated/Uncirculated: Uncirculated
Type: Polymer fantasy art banknote
Country/Region of Manufacture: United States