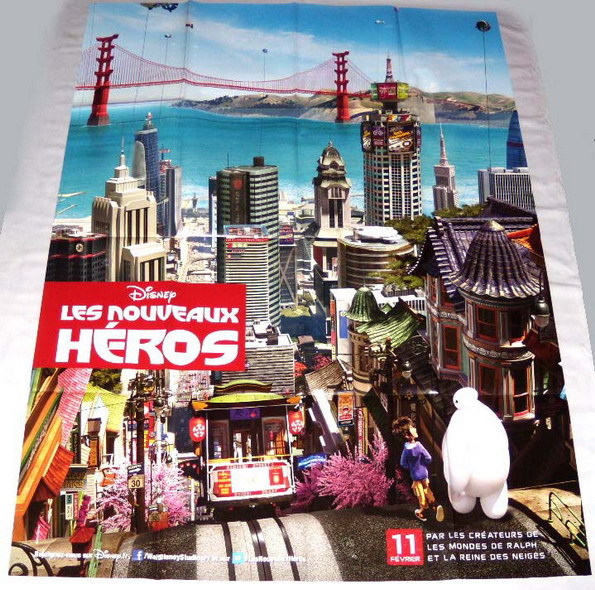 Item ID:351756885665
Seller ID: monsieurkinoman
Listing Type: Fixed Price Item
List Date: 06/12/2016
End Date: 05/12/2020
Location: Clichy
»

»

»

»
Big hero 6 a disney sci-fi animation robots large french poster teaser "day"
---
$25.00
CrazyListerLARGE FRENCH POSTER (approx. 47x63"/120x160cm) in mint condition, originally folded never displayed, without any defect (carefully sent in a very hard covering, with plastic protection) GRANDE AFFiCHE FRANCAiSE (approx. 120x160cm) en condition parfaite, pliée d'origine jamais exposée & sans aucun défaut (soigneusement envoyée dans une enveloppe renforcée très solide, sous plastique) THiS iS NO REPRODUCTiON. ALL MY iTEMS ARE ORiGiNAL from the movie network IL NE S'AGiT PAS DE REPRODUCTiON. TOUS MES OBJETS SONT ORiGiNAUX issus du réseau cinéma 2015 Titre français Les nouveaux héros Deutsche Titel Baymax-Riesiges Robowabohu Casting Genesis Rodriguez, Alan Tudyk, Jamie Chung T.J. Miller, James Cromwell, Maya Rudolph, Damon Wayans Jr., Ryan Potter, Daniel Henney Director / Metteur en scène Don Hall, Chris Williams (II) Keywords / Mots-clés San Francisco Tokyo Robotics Japan Science-fiction Animation Sci-fi Japon Robots robotique High-tech FEEL FREE TO ASK ANY QUESTiONS N'HéSiTEZ PAS A M'iNTERROGER COMBiNED SHiPPiNG ONLY +1$ per each additional item SEULEMENT+1$ pour chaque article supplémentaire FREE SHiPPiNG CHARGE if you order 4 items or more FRAiS D'ENVOi OFFERTS pour 4 articles commandés ou plus ViSiT MY STORE ViSiTEZ MA BOUTiQUE FAST SHiPPiNG WORLDWiDE Rapide envoi postal dans le monde entier :Europe : 7$Anywhere else : 9$(America, Australia, Asia, Russia etc.)
Listings on Sportscards.com Price Database are obtained exclusively from licensors and partners solely for our member's research only needs.
Keyword: Cinéma Movies Collection Collector Kino Movies
Keywords 2: Movie theatres distribution Exploitation